Our new normal.
It's pretty safe to say, it is a very different landscape we are all facing. A few fun insights from some urban dwellers finding refuge in the bush.
When Victoria went in to lockdown, we had just arrived at our off grid bush retreat in the Victorian Goldfields. We took the decision that it was probably as good a place as any to sit tight and ride out the virus.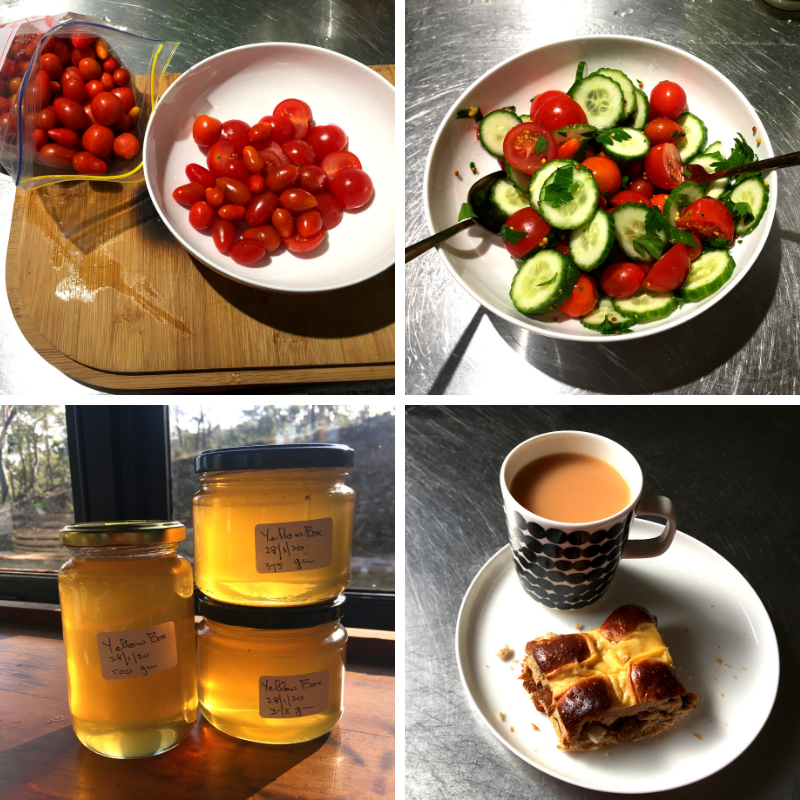 Does food somehow seems more delicious?
Most of our neighbours have well tended veggie patches, with an over supply of produce. Hence the huge bag of cherry tomatoes dropped at our door. Another neighbour has 160 acres, lush with beautiful yellow box eucalypts, and provided us with the most delicious fresh honey. I don't think I have ever tasted anything like it - straight from the jar, it almost has the consistency of toffee. And then of course, there is the local artisan baker. These easter buns were to die for. If you are ever visiting Castlemaine -
Johnny the Baker,
hidden away in a repurposed old drive through bottle shop, is the best kept secret of the area. The shop is one huge space, so all the baking, rolling of the dough, filling the pies, folding the croissants is carried out right in front of you. the only thing separating you - a glass case of the most decadent pastries to rival a french patisserie.
Only available on line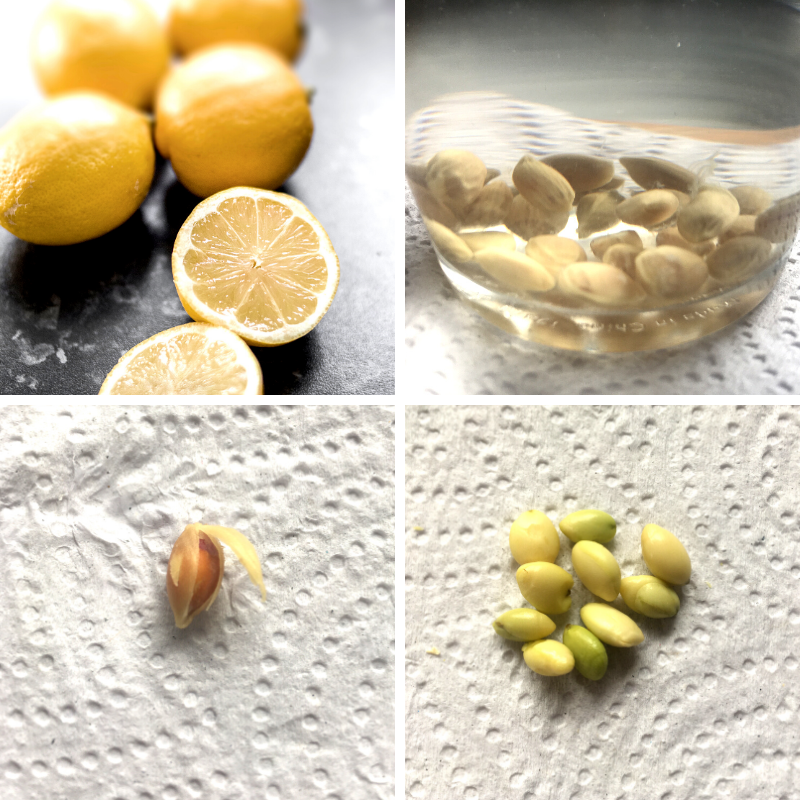 For some reason there seems to be more time for experimenting with new ideas.
I was attempting a
Nigella Lawson Lemon Polenta Cake
, can I just say that again! A Nigella Lawson lemon Polenta cake! 🤩 Crazy I know - but it was soooo delicious. We had started doing Friday night zoom G&T's with two sets of neighbours which always extended into dinner time. I had the smart idea that we should take turns choosing a menu and we all cook the same thing - a virtual dinner party trying out new recipes. However the guy's, going first decided to blow us all out of the water and deliver dinner to us, a delectable vegan lasagne with poached pears for dessert. 🥺So we were next and I had to pull out the big guns. Squeezing multiple lemons, I suddenly though - I wonder if I could grow plants from all these seeds 🤔 So with my friend Google, it turns out soaking them, then peeling two layers of skin off these slippery suckers leaves you with the inner kernel. So I have popped them on some wet paper towel - in a plastic bag on the window sill, fingers crossed 🤞and feeling very proud of myself!
Visit Dinadi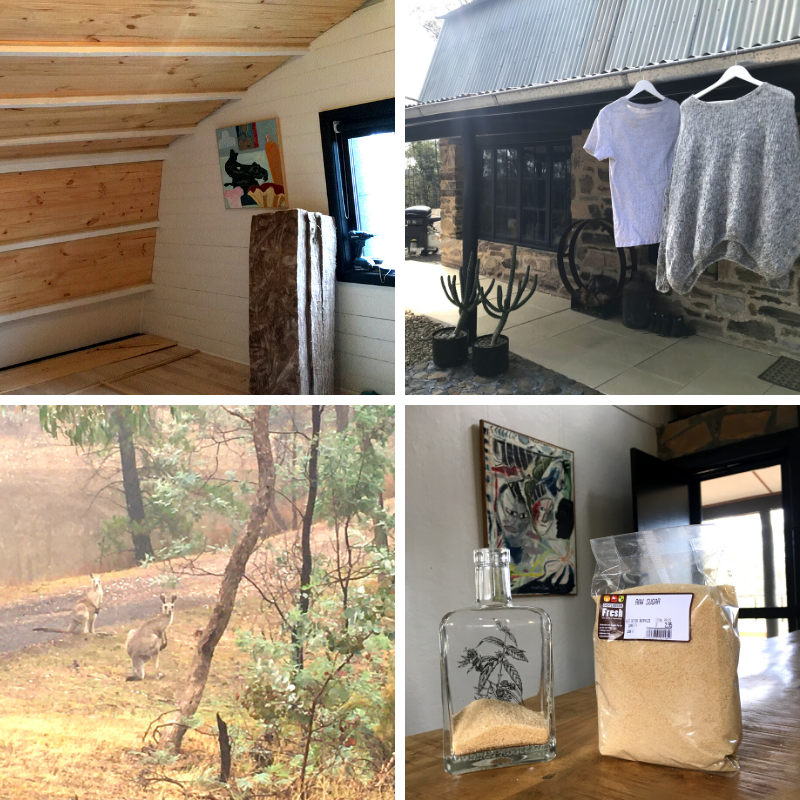 "Start where you are. Use what you have. Do what you can." Arthur Ashe.
So how do we spend our days? We decided to use this time out to get stuck into some of the outstanding jobs on the list. Our shack has no insulation, which is not ideal given the location! So we decided to attack the issue head on. Safe to say we are still at 😫but getting closer.
Being off grid, power and water are precious resources, so no washing machine! There is actually something quite rewarding about hand washing your own clothes (having said that I was a little excited to discover an eco laundry in Bendigo :)
Exercise is now an early morning hike around bush tracks, where I often run in to fellow locals on their way home after a busy night out.
And I was very excited to discover a great new use for empty gin bottles - they fit perfectly into our tiny pull out pantry - perfect containers for sugars and flours. 😉
The hurdles and obstacles we are all trying to navigate are a challenge, but I have been thinking how has this changed things, and are there some positives?
For me - I seem to have more time and space to think. A little more time to research and learn. Without being always in a rush - the slower pace allows more time to reflect. And the sense of community that has developed for us all - the stories of neighbourhoods and communities connecting have been really inspiring. People also rediscovering local artisans, local makers, local businesses. Thank you to everyone who has supported us through this time. I would like to pay that support forward - and share a wonderful discovery I have made.
#supportingsmallbusiness
Grab a beanie while stocks last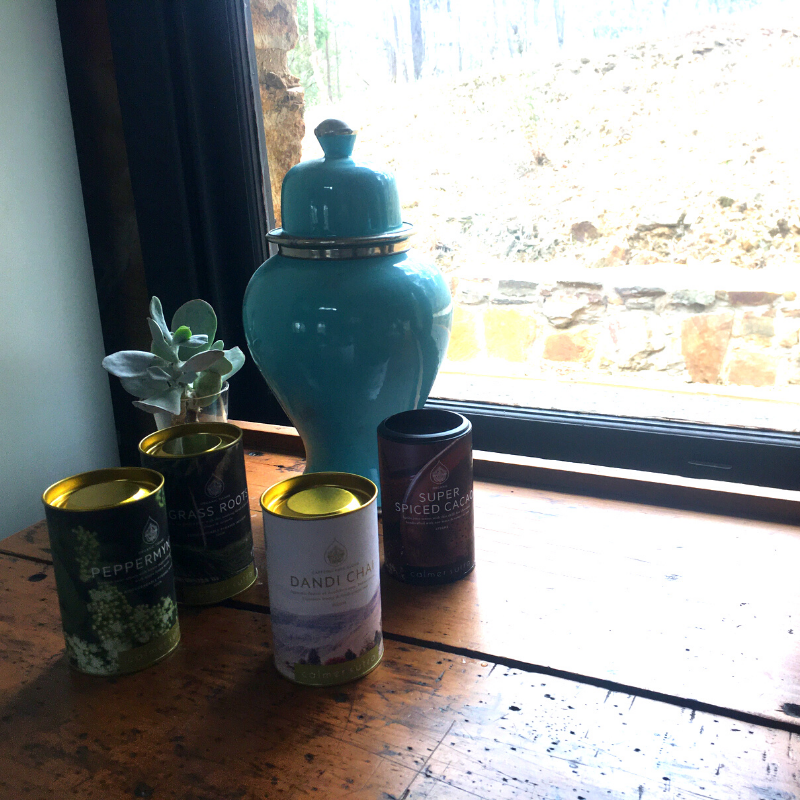 If any of you are chai addicts like me - let me introduce you to Calmer Sutra fresh dandelion chai.
I discovered it recently at a health food store, and thought I would give it a try. Turns out on researching Dandelion is very good for liver health - win win 😍It was so delicious I went through the tin pretty quickly - and panicked! I am in lockdown - how can I get fresh chai in the country? I went online and found to my delight they deliver. Not only that - they sell the most decadent chilli hot chocolate - not a powder but a delicious smooth sludge of chocolatey goodness. And some delicious teas as well. That actually is the downside of lockdown, you can get a bit carried away with the online ordering! A few days later my shipment arrived at the local post office. So a heart felt call-out for a great Australian small business
Calmer Sutra Fresh teas
#supportlocal #locallove