More than 280 Australians develop Diabetes every day.
Type 2 is the most common type, affecting approximately 80 - 90% of all people living with diabetes.
Glucose is one of the most important energy sources for our bodies. It enters the body via carbohydrates in our diet which our body then converts into glucose. The pancreas provides the insulin required for the glucose to enter cells and be used as energy.
Diabetes is a condition where there is too much glucose (sugar) in the bloodstream, and the body cannot make enough insulin to maintain healthy levels.
Ensuring your diabetes is well managed is vital.
The best way to control, or in some cases delay or prevent type 2 diabetes is to maintain a healthy lifestyle.
However if diagnosed with diabetes, one of the major areas of the body that needs extra caution and attention is the feet.
What happens to your feet when you have diabetes?
Uncontrolled diabetes can damage the nerves in your feet resulting in "sensory diabetic neuropathy." The symptoms are associated with a lack of feeling in your toes. The danger lies in getting a cut or sore on your foot, which left untreated, becomes infected due to the moist conditions inside your shoes. This could lead to more serious complications.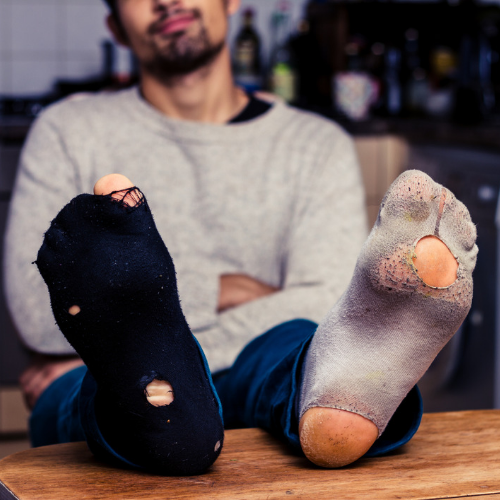 The worst thing you can do is to neglect your feet.
Choosing the correct socks is vital. Wearing synthetic or cheap fibres can promote moist bacteria loving ecosystems in your shoes, creating a sweaty sticky mess. Poorly constructed seams continually rubbing on the foot can cause inflammation and abrasion. And finally, rib trim that is too tight can restrict blood circulation exacerbating the foots natural healthy condition.
Jump to our blog post on the best way to deal with sweaty feet
Bamboo Monkey socks provide the superior protection your feet need.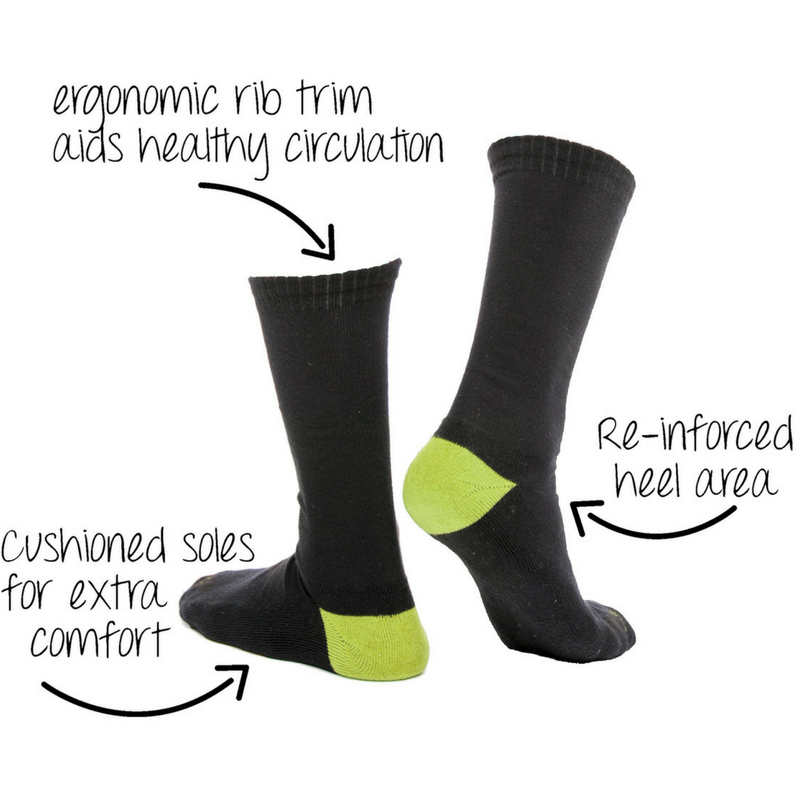 Bamboo fibre itself is a super fibre, a supple luxurious thread that feels softer than cotton.
But that isn't the only reason why it's so super ...
Natural wicking properties in bamboo continually draws moisture away from the skin keeping feet comfortably dry while inside the shoes.
Bamboo contains a property called "kun" a natural anti bacterial agent that neutralises bacteria hence no stinking shoes.
Natural thermoregulation, the ability Bamboo has to regulate temperature means it is able to keep you cool in summer, and warm in winter.
Bamboo Monkey socks have been engineered for comfort, resilience and durability, with ergonomic rib trim for healthy circulation and re-inforced heels and toes for maximum comfort.
Wear Bamboo Monkey socks for 24/7 comfort and protection.
Grab any one of our economical sock packs and receive FREE a mesh laundry bag (rrp $9.95), ensuring you will never again end up with odd socks in the wash.
Offer available to all customers purchasing their first ever Bamboo Monkey sock pack.
(includes work, maxi. party, urban and sports packs)
Shop socks here