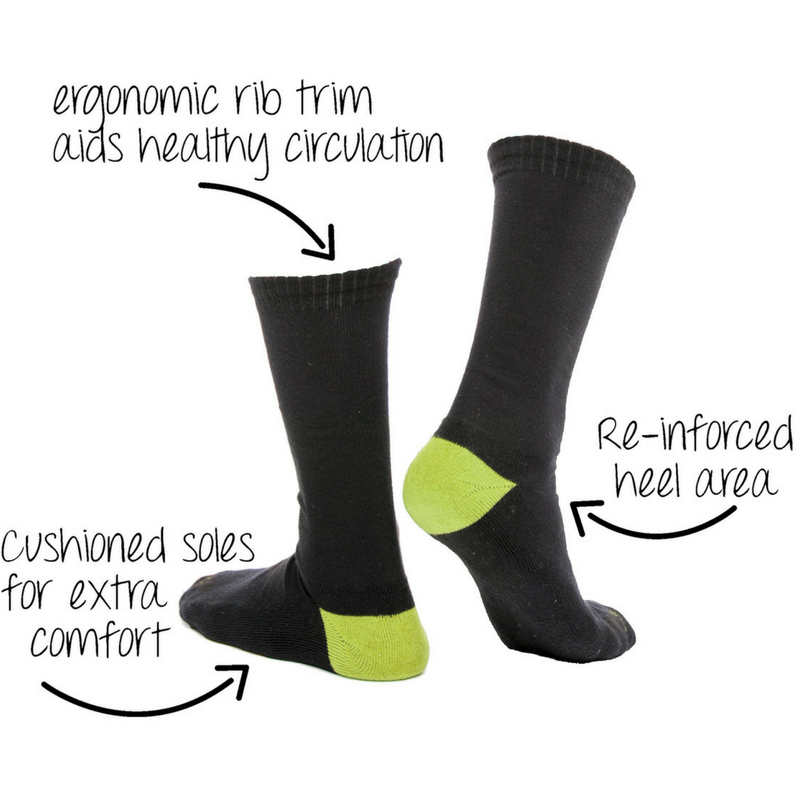 What makes a sock really comfortable to wear?
Bamboo fibre - it is silky soft and smooth. Antibacterial properties in the fibre means there is no smell or odour at the end of a days wear. As a nature based fibre, bamboo is able to "wick" moisture away from the skin leaving the foot dry and comfortable, even on hot days.
Cushioned soles - add extra padding to the bottom of the foot for 24/7 comfort. Great if you are on your feet all day!
Re-inforced heels helps protect against the edge of your shoe constantly rubbing on your heel.
Ergonomic rib trim - specifically designed to keep your socks up with out cutting off your circulation.
Bamboo Monkey socks have been exclusively designed in Australia to provide a wholistic experience for the wearer.
Shop Bamboo Monkey's exclusive range here
Introducing Bamboo Monkey bamboo socks
Everyday Black Dress Socks from $12.95
Colour coded heels for easy pairing
Also available in packs of 5 (workweek $55) or 10 (maxi pack$100)
And here's what our customers think ...
Awesome Socks
Thank you so much firstly for your awesome socks - including the sports socks. They are exactly what our family was looking for.
Beautiful quality yarn and fit. Secondly, the delivery time was super fast.
We are very happy to recommend Bamboo Monkey. Cheers Sue
Great socks
Sue and our family of men
I have been wearing these bamboo monkey socks for some time and they are extremely comfortable. I have had virtually no foot skin problems since wearing them, unlike cotton socks. Not only that but they last far longer than any other socks I have ever owned. Can not recommend them too highly.
Most comfortable socks ever
These were a gift for my son... socks might be seen as boring but he loved them and has stated they are the most comfortable socks ever... as well as the environmental benefits. The Bamboo Monkey staff were excellent and I received my order very promptly. No fuss and very satisfied.
If you are looking for the most comfortable socks you have ever worn...
Shop Online here